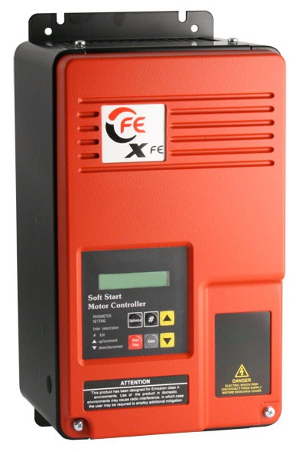 CALL NOW TOLL FREE: 1-800-681-7374
The Fairford Electronics XFE is capable of starting parallel-connected motors simultaneously provided each motor has similar characteristics and load.  For such configurations the unit rating should be at least the sum of the current ratings of all the motors.
Alternatively, the Fairford Electronics XFE can start and stop motors sequentially using bypass contactors under the control of the programmable relay set as a 'Top of Ramp' relay. The dual setting feature allows for the control of motors with different start-up requirements.  Details on multiple motor applications can obtained via your supplier.
Fairford Electronics XFE Products
Fairford Electronics XFE-102K
Fairford Electronics XFE-104K
Fairford Electronics XFE-106K
Fairford Electronics XFE-108K
Fairford Electronics XFE-110K
Fairford Electronics XFE-112K
Fairford Electronics XFE-114K
Fairford Electronics XFE-116K
Fairford Electronics XFE-118K
Fairford Electronics XFE-120K
Fairford Electronics XFE-122K
Fairford Electronics XFE-124K
Fairford Electronics XFE-126K
Fairford Electronics XFE-128K
Fairford Electronics XFE-130K
Fairford Electronics XFE-132K
Fairford Electronics XFE-134K
Fairford Electronics XFE-136K
Fairford Electronics XFE-138K
Fairford Electronics XFE-140K
Fairford Electronics XFE-202K
Fairford Electronics XFE-204K
Fairford Electronics XFE-206K
Fairford Electronics XFE-208K
Fairford Electronics XFE-210K
Fairford Electronics XFE-212K
Fairford Electronics XFE-302K
Fairford Electronics XFE-304K
Fairford Electronics XFE-306K
Fairford Electronics XFE-308K
Fairford Electronics XFE-310K
Fairford Electronics XFE-312K
Fairford Electronics XFE-314K
Fairford Electronics XFE-316K
Fairford Electronics XFE-318K
Fairford Electronics XFE-320K
Fairford Electronics XFE-322K
Fairford Electronics XFE-324K
Fairford Electronics XFE-326K
CALL NOW TOLL FREE: 1-800-681-7374