Schneider Electric Drives
At Specialized Electronic Services, we are one of the largest Schneider Electric Service and Warranty Centers in the Southern U.S., and we are experts in Schneider Electric Drive and PLC repair. We can sell, service, and repair the entire Schneider Electric product line. We have extensive design and start-up experience with all Schneider Electric products. There are many types of industrial electronic items for sale under the Schneider Electric umbrella so call us today to see how we can help supply you the parts you need for your factory automation needs.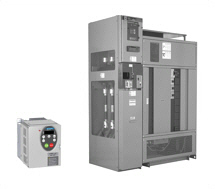 Below is a partial list of the Schneider Electric units we have worked with. We are constantly working with the Schneider Electric Factory to ensure our technicians and programmers are well versed in the newest Schneider Electric products. Craig Gaulden and Terrence Harris recently finished training at the factory on the latest AC drive Schneider Electric has come out with. We also sell the Schneider line of Modicon PLC's. Be sure to contact us for any application, sales or service questions you may have. We have Schneider Electric AC drive sales often so call us to compare pricing if you feel you have been paying too much. Call and ask for sales at 1-800-681-7374.
Schneider Drives
Schneider ATV61HU40N4
Schneider ATV61HU75N4
Schneider ATV61HD15N4
Schneider ATV61HD22N4
Schneider ATV61HD55N4
Schneider ATV61HD75N4
Schneider ATV61HC11N4
Schneider ATV71HU22N4
schneider drive, schneider vfd, schneider electric vfd, schneider soft starter, schneider electric drives
Schneider ATV71HU40N4
Schneider ATV71HU75N4
Schneider ATV71HD11N4
Schneider ATV71HD15N4
Schneider ATV71HD22N4
Schneider ATV71HD37N4
Schneider ATV71HD55N4
Schneider ATV71HD75N4
Schneider ATV71HC11N4
Schneider ATV61HD37N4
Schneider ATV71HU55N4
Schneider VW3A3201
Schneider VW3A3202
Almost all the Schneider Electric VFD's listed above are in stock in Dallas Texas ready to ship today. Call and ask for sales to place an order for your Schneider drives or ask for technical support if you need to cross your obsolete Schneider Electric part number to a current model part number at 1-800-681-7374.
SPECIALIZED ELECTRONICS SERVICES IS THE NUMBER ONE PLACE FOR ALL YOUR VFD DRIVE SALES NEEDS. 
We will work hard to get you the VFD Drive you need.