Repair Service
Rush Repair Service
Warranty Service
Field Service
Free Evaluation Service
Training Service 
CALL NOW TOLL FREE: 1-800-681-7374 

VFD Repair Service
We provide expert repairs on: most vfd drives and components such as: Circuit Boards of all types • Variable Frequency Drives • DC Drives • VFD drives • Spindle Drives • Servo Drives • Power Supplies • PLC's (Programmable Logic Controllers) • Card Access Security Systems • Tension Control Systems • Winder Control Systems • CNC Machine Tool Controls • HVAC Control Systems • Electronic Clutch-Brake Modules • Air Ionizers • Timers • Counters • Encoders • Lasers and Laser Systems.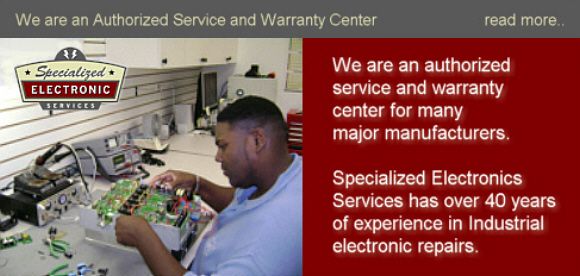 At Specialized Electronic Services, we have factory trained technicians available for your industrial electronic needs. We are factory authorized representatives for many leading brands in the industrial field. Whether it's VFD's, AC Drives, DC drives, Servos, or circuit board repairs, we have the training and ability to do the job right the first time.
Our technicians have many years of experience in industrial electronic repairs, service, and sales, servicing ac drives, dc drives, servo drives, spindle drives, VFD's, plc's, circuit boards and fully automated systems from all over the world. Whatever the brand name of your equipment we will be able to offer a quote, most prices below our major competition. We offer sales on most major drive namebrands below the pricing you would pay at the factory direct. Here is a small list of some of the major Industrial electronic lines we can sell to you usually below the manufacturer suggested price. We are also a warranty service center for many of the brands listed below. Allen Bradley, Reliance, Yaskawa, Square D, Emerson, Control Techniques,  US Drives, Baldor, Saftronics, Fairford, TB Woods and SEW Eurodrive.
Rush Repair Service
In our repair facility, not only can we provide you some of the fastest turnaround times at prices below most of our competitors… a RUSH Service is also available. For a nominal fee we can expedite your repair to sometimes within 24 hours. Since we stock a large inventory of parts some repairs can be accomplished in as little as 24 hours. If parts need to be ordered in, the repair can be done in two to three days. Occasionally, in the case of older obsolete parts, a rush repair is not feasible. We will advise you when this is the case, and can offer repair as soon as the parts are expedited in. Be sure to mention if you need our rush service in your correspondence with our repair service.
Warranty Service
We are a Factory Trained and Authorized Service Center for major brands such as Saftronics,  Baldor, Yaskawa, US Drives, Siemens, Toshiba, Magnetek, and Square D. We not only do factory authorized start ups for these namebrands we also do factory authorized repairs and service on these manufacturers drives as well as sell them. We are also the regional warranty shop for SEW EuroDrive, Polyspede, Motortronics, T. B. Woods, and CMC.
We have a vast amount of experience repairing Allen-Bradley, Reliance and Control Techniques equipment, both in the shop and in the field. Many of the largest drive companies rely on our skilled technicians and engineers to solve difficult applications and failures of their equipment.
We can also provide certified factory start-ups. Many AC Drive manufacturers offer extended warranties when the Drives are started up by an authorized service center. We are always adding to our list and are attending the latest training offered by these manufacturers to insure we can provide the best service to our customers.
If your equipment is not listed here, we can usually offer the same expert repair and service on it. If your equipment is not on this list, and is out of warranty, give us a call. We will be glad to go over what options you have for repair and service. For information on non-warranty repairs we are capable of, refer to our Manufactures we Service page.
Specialized offers a 6-month warranty from the date of installation on most repaired items.
We can also specify a drive for your needs, and can sell it to you most times below list price. Ask us for a quote for your repair, service, and/or purchase needs.
VFD Field Service
We offer field service designed to meet our customers needs. Retrofits, installations, or on-site troubleshooting are just some of the services we offer. We also have a technician on call 24 hours a day. After hours calls to our shop line are forwarded to the technician on call. That way support is available when you need it most. If a phone call doesn't solve your problem, we will dispatch a technician to your site. Regional calls can usually be answered within an hour. If travel is required, then arrangements will begin immediately. Our experienced staff will find the best way to get you up and running again. It's another example of our commitment to our customers to get them running, and keep them running.
A member of our experienced staff can also come to your site and offer solutions for your maintenance problems. Do you have a unit that fails regularly? Do you have a system that you can't get parts for? We can research the options you have and select the best one for your situation. Contact us today!
Terrence Harris has over ten years experience in Blown film, extruders, Goss and Harris Press work, CNC and machine tooling systems, specializing in upgrading and retrofitting controls. Terrence has extensive factory training with ABB, Yaskawa and Square D. He also has experience in upgrades and retrofits of outdated CNC equipment and in converting old DC drive units in automated systems to modern AC drives. Terrence has a great amount of experience in converting DC drives in factory equipment to AC vector units as well. He also can spec out a new control for any type of axis control. Contact Terrence for any motion control needs you may have. If you have a machine with a tough problem or needing an over haul you can contact Terrence at: [email protected]
Bill Kegley came to us from Allen Bradley / Rockwell International. He has extensive experience with repairing Allen Bradley AC, DC and Servo Drives and systems. He has been in Field Service around the Dallas area for eighteen years now. Mr. Kegley designed a load bank system for testing drives on site at Specialized Electronic Services. The test station can test a drive up to 100 Horse Power and is controlled with a SLC 500 PLC system for testing your drives with remote wiring as well as off the keypad. Bill is factory certified by Graham, Danfoss, Yaskawa,  Magnetek and CMC Controls. If you need your Drive or industrial electronic equipment repaired or tested or wish to buy a new piece of equipment contact Bill Kegley at: [email protected]
Craig Gaulden is our Drives Specialist. He has over fourteen years experience with AC and DC Drives. Craig is Factory Trained and Certified by Baldor, Magnetek,  Toshiba, Square D, Yaskawa and Graham. He has extensive experience with Reliance, Altivar, Siemens and Allen Bradley Drives. In the shop or in the field, he has tackled some of the toughest drive problems. Several Specialized Electronic Services customers ask for Craig by name to work on their AC drives for air handling and pump applications in high rises, hospitals, and buildings all over the Dallas metroplex. If you have a need for component level repair on your equipment or a drive problem you can contact Craig at: [email protected]
Free Evaluation Service
Unlike most of our competitors, we offer quotes and evaluations at no charge to our customers. Once we receive the failed equipment, we start our evaluation process. We can normally evaluate your equipment within 24 hours. If we know in advance the unit is coming, and it is a RUSH repair, it is evaluated and quoted the day we receive it. Our staff of fully trained electronic technicians use state-of-the-art technology to repair your drives, industrial electronics and circuit boards down to component level and we use loading test fixtures to test your equipment under load before it is returned to you. We are well versed in the latest industrial electronic technology to insure our customers get the best service possible.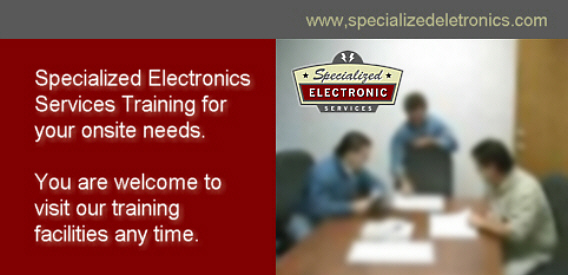 Training Service
We are able to train you or your staff on the equipment you buy from us. Either here in our shop, or at your site, we can conduct training at the level you require to keep your equipment running. We also offer on-site training custom designed to meet your specific maintenance applications. We will come to your site, study your applications and equipment, and design training courses custom fit for your maintenance needs. We can cover Drive and motor maintenance, PLC's, troubleshooting techniques or preventative maintenance.
We are proud to be a "FULL SERVICE" Vendor. Not only will we sell you equipment, we will service it and teach you how to maintain it. At Specialized Electronics, the sale isn't the end of our relationship with our customers, it's only the beginning.
We provide a contract repair service to Electronic Manufacturers for quick, accurate low-cost test and repair of their production needs. Contact us for your specific needs and requirements.
Our philosophy is to provide our customers with the best solution at the right price to maintain up-time and reduce costs.
At Specialized Electronic Services we do whatever it takes to keep your operation running smoothly.
You may even request a quote from us online, for repairs, service or purchases.
CALL NOW TOLL FREE: 1-800-681-7374